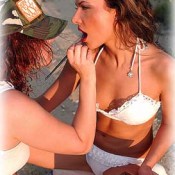 Renee "Amber" Grubman is a professional make-up artist with over 12 years of industry experience. With hundreds of jobs under her fashionable belt she's the artist of choice for many professional photographers. Her distinct style and professional touch are not only on covers of magazines, but those of CDs as well as right there in the music videos.
She worked consequently for Christian Dior, Lancome, then as an assistant to a celebrity make-up artist and then as a make-up artist for Sephora Color Team. She also worked on numerous fashion, glamour, editorial and runway photo shoots.
Currently Renee freelancing as a beauty consultant providing makeover advice. She is also available for paid photo shoot work, wedding make up and various events. Just use Contacts page to get in touch.
Fashion/Editorial Makeup Beauty Makeup Wedding Makeup NY Photographer